Valuable insights into the beating business heart of Australia
Download the Report
WHERE AUSTRALIA'S SMEs ARE HEADING IN 2023 AND WHY
Discover the business growth barriers and strategies used to overcome them
Uncover the speedhumps and roadblocks resulting from inflation
Find out the plans for funding the future and what will make business decisions easier
Download the Report
A report that gets to the point; it's an easy read for anyone in small business and delivers actionable insights couples with expert knowledge

.

— Mitchy Koper, Creditor Watch

Great report, really strong insights particularly in the current environment! …This is really aligned with what we have been experiencing

.

— Stuart Donaldson, Accendo Finance

It shows that a lot of Australian business owners are very proactive in their thinking and in the way they prepare for hard times ahead, they are a step ahead

.

— Guy Callaghan, Banjo Loans
Why is this report so relevant right now?
Hear how the SME Compass Report is informing future business thinking from business owners, brokers and a credit executive.
FIND OUT WHICH EFFORTS AUSTRALIA'S SMEs ARE PRIORITISING AND WHY
Download your SME Compass Report 2023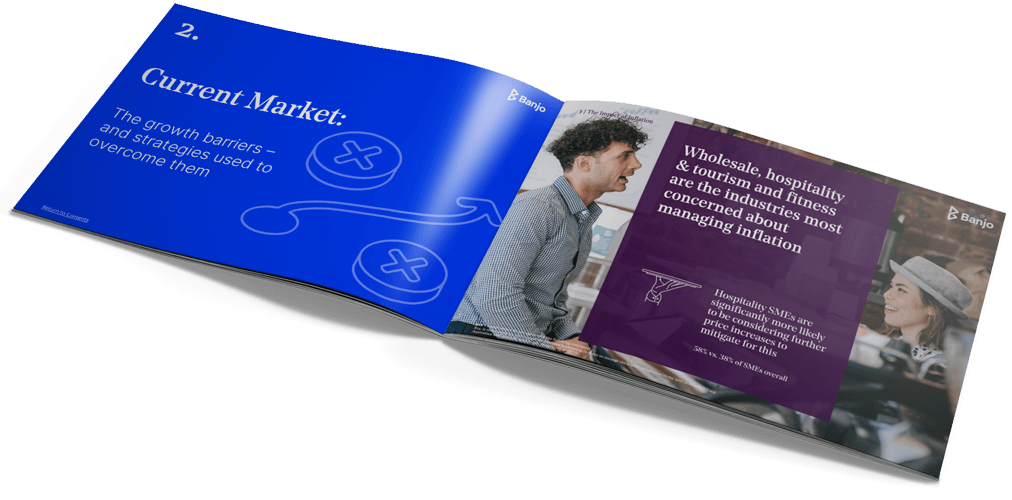 Helping hard working Australian businesses to continue to grow
A BIT ABOUT BANJO LOANS BECAUSE WE KNOW YOU'RE IN A HURRY
We're a team who understands that small to medium-sized businesses are the engine room of our economies, cities and communities. Our mission is to power their growth through simple, smart financial solutions. Banjo makes it easier for businesses to access the right finance they need to move forward. We're proud to assist in helping businesses to reach the next chapter in their development and success.
We help a broad range of businesses to grow and reach their potential
Want to stay informed?
Get the latest Banjo business finance webinar updates.
By clicking the "Continue" button, you are agreeing to the Banjo Terms of Use and Privacy Policy.
Copyright © 2023 Banjo® Loans. Banjo® and Banjo Score® are registered trade marks used under licence by Banjo Loans. All loans are provided by FundIT Ltd ACN 601 130 527 in its capacity as trustee of the Banjo Small Business Loan Fund ABN 32 713 685 984 (AFSL 468033). All loans are subject to eligibility criteria and approval by Banjo. Upfront fee, terms and conditions apply.